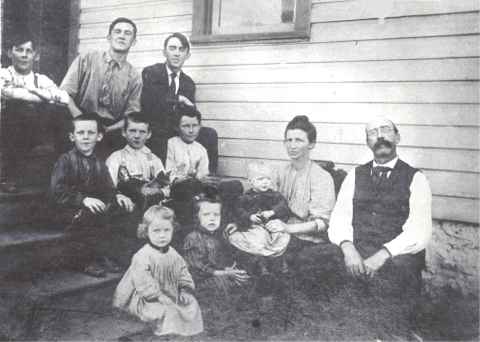 The family of Michael & Missouri Riley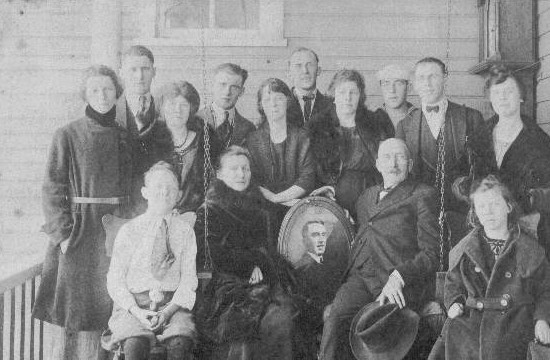 Front row- Paul, Missouri (mother), Michael (father), Kit (seated)
Second row- Feda (Bob's wife), Ethel (Maurice's wife),
Margaret, Blanche (Ed's wife), George, Mary
Back row- Bob, Maurice, Ed, Bill
The picture is of Jim (deceased)
(photo donated by Pam Foy)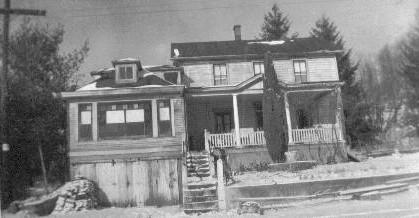 Riley home 1945
(photo donated by Pam Foy)
Obituary of
MICHAEL FRANCIS RILEY
Michael F. Riley, aged 72 years, 10 months and 7 days, died at his home in West Salisbury,
on Saturday, Oct. 22, 1932, at 7:21 o'clock P. M. after an illness of 10 days. His father, James Riley
and his mother, Esther Kennedy Riley, were natives of Ireland. The father emigrated to America at
the age of 17 years and settled in Armstrong County, Pa.
Their son, Michael was born, in Kittanning, Dec. 15, 1859. He attended the public schools of his
native town until 16 years of age, when he quit school to enter the employ of the Allegheny Valley
Railroad Company which he continued for two years. He then became a student of Vincent's College,
Latrobe, Pa., at the age of 18 years, graduating therefrom in 1879. Re-entering the service of the
Allegheny Valley Railroad Company he worked as a fireman until 1882, when he located at West
Salisbury, to assume the post of station agent for the B. & 0. R. R. Co., serving ably and efficiently in
that capacity for the period of a half century, when he retired and was placed upon the pension list.
Right here it may be truthfully stated, that no man ever served his employer and the public more
efficiently, than did Mr. Riley, and his cheerful and obliging presence will be sadly missed from the little
B. & 0. station by the company's patrons for years to come. He was the second of a family of seven
children, four brothers and three sisters.
On Sept.19, 1887, he was united in marriage with Missouri Elizabeth Wagner, daughter of Dennis
and Mary Loechel of Salisbury. To this union were born 10 children as follows: James D. Riley,
deceased; Edward E., George F., Robert M., Morris H., William R., Mary E., wife of Edward Crowe;
Margaret E., wife of Reese Lichliter; Paul J., and Kathleen. Mr. Riley was owner and operator of the
Mountain Tonic Company plant and conducted a shoe store for 13 years at West Salisbury.
In politics Mr. Riley was a staunch Democrat but was repeatedly honored in the republican
Township of Elk Lick by being chosen Judge of elections, in which capacity he served ably, honestly,
impartially and conscientiously.
At the time of his death he was a stockholder in the First National Bank of Salisbury. Mr. Riley
was a lifelong member of the Roman Catholic Church and for 50 years a member of St. Michael's
congregation, West Salisbury. A solemn requiem high mass was celebrated Tuesday morning,
followed by internment in St. Michael's cemetery.
If ever a man lived, who conform-ed to the Golden Rule and to the commandment, "Love thy
neighbor as thyself," that man was Michael Riley. He had a great, kind sympathetic heart, and helping
hand for the down-trodden and oppressed. Almost any one's misfortune would bring tears to his eyes.
He was sociable, magnanimous, and generous to a fault. Oh! How sadly he will he be missed!!