Levi and Sarah Lichliter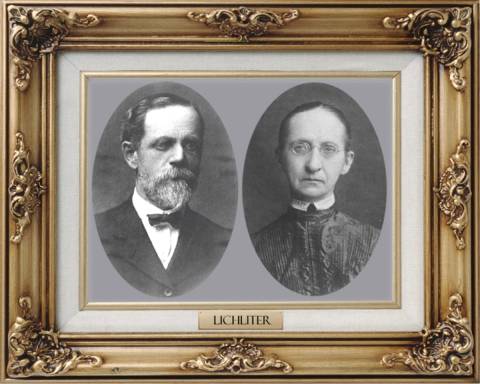 Photo donated by Dutch Lichliter
Levi Lichliter (1845-1925) Sarah (Smith) Lichliter (1843-1918)
Levi Lichliter was born in Upper Turkeyfoot Twp., son of Rev. John C. and Susan (Younkin) Leichliter. His great-grandfather, John Leghliter, arrived in Somerset County in 1795, settling near what is now Ursina. His father died when he was seven years old. He was raised by his mother and friends, and struggled to get an education. He became a teacher in Upper Turkeyfoot when he was only 17 years old.
Levi came to Salisbury in 1867 as a teacher, then went to work for William Smith, a local businessman. He returned to teaching in 1878. In 1888, with a capital of only $500, he started the Lichliter Feed and Grocery business. Levi retired from the store about 1918, and the business was continued as J. C. Lichliter and Co. by sons John and William and daughter Edith. Later the store was operated by John Lichliter's sons, John C. Jr., and G. Reese Lichliter. The store business was sold to Blair Buckell about 1975. The Lichliter store was well known for the high quality maple products that were purchased from local farmers and shipped to many different areas in the eastern U. S.
In 1869 Levi married Sarah Ann Smith. They had eight children: Christian S., Adeline, Emily, Edith, John, Almira, Francis, and William. Sarah assisted Levi in the operation of the store. For a time the store was operated under her name as S. A. Lichliter
Levi served as Justice of the Peace for 30 years, and was known as "Squire" Lichliter. He also served as Burgess, and was a member of the town council and school board.
Sarah (Smith) Lichliter (1843-1918)
Sarah Smith was the daughter of William and Catherine (Diveley) Smith of Salisbury. William Smith was a prominent merchant and shook manufacturer in this area until about 1874. Sarah's mother was also a member of a very old Somerset County family. Her grandfather, Michael Diveley, was a Brigadier General in the Pennsylvania Militia. He is buried in the old cemetery atop the hill east of Salisbury.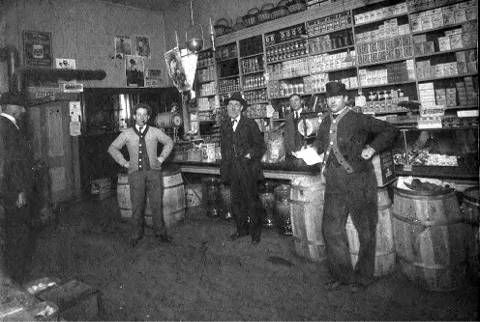 Unidentified towns people in store. Larger scan of this picture available upon request.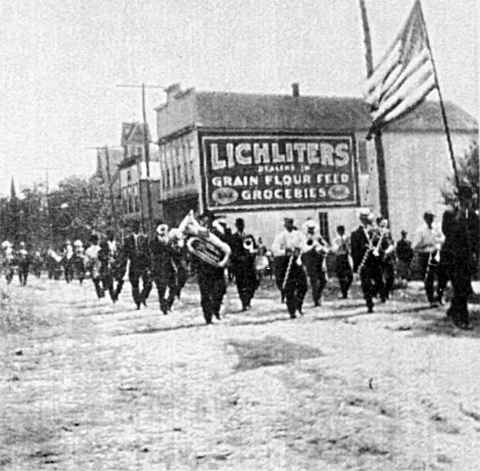 The original Lichliter Feed Store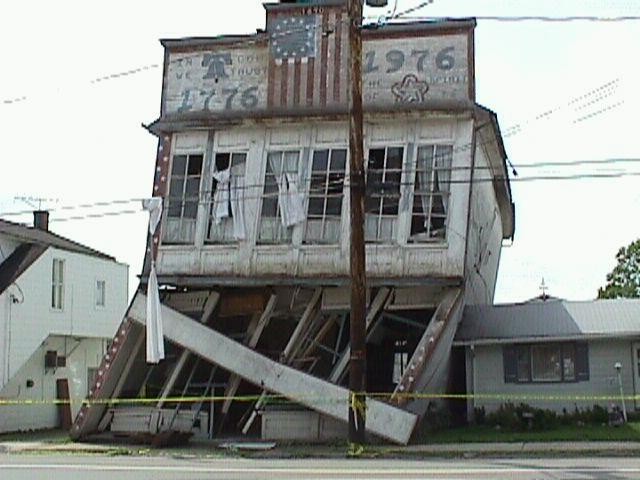 After the tornado of May 31, 1998
Photo by Don Younkin

For more Lichliter information contact Dutch Lichliter
DLichliter@aol.com
---