The Old Cross Roads School
The Cross Roads School, just off of Route 669 on the Niverton Road, is not the first school in Elk-Lick township by that name. It was preceded by the little red schoolhouse which was built in 1867. This school stood nearer Route 669 and closer to the southwest corner of what was then the school property. In 1879 and 1880, Samuel A. Kendall, who later became a congressman, taught the last term in the red house and the first term in the new white school.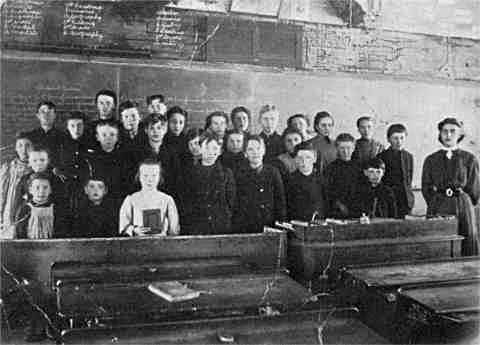 Cross Roads School 1907-1908
The teacher, Florence Yoder, stands at the extreme right of the picture. Noah Beachy: extreme right, first full row (age 10).
Allen Compton: Back row, to the right of the second section of blackboard.
Annie Beachy: right, second full row, second child.
Effie Beachy: right, second full row, third child.
The following students are also in the picture but position is unknown:
Floyd Bender, Lewis Bender, Menno Beachy, George Shaw, Ray Engle, Lester Engle
Emma Engle, Orpha Baker, Crist Baker, Evora Folk, Lydia Folk, George Shaw
Robert Larue, Ray Shoemaker, Arthur Shoemaker.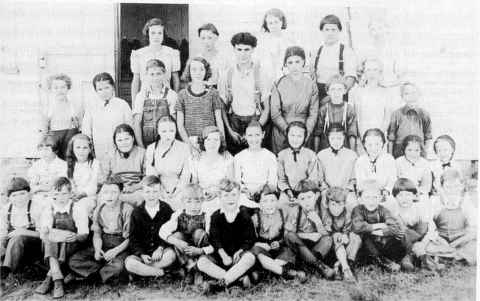 Cross Roads School Students 1935
Front Row: Pete E. Yoder, John Miller, Elmer S. Yoder, Frank Durst, Max Miller, Watson Durst, Galen S. Yoder, Denver S. Yoder, Donnie Engle, Harvey C. Yoder, Arthur Schrock, Billie Lee.
Second Row: Rosetta Stangarone, Elnora Schrock, Mary Yoder, Rachel Beachy, Leona Folk, Ada Schrock, Grace Beachy, Annie Coblentz, Thelma Yoder, Alice Beachy, Effie Yoder.
Third Row: Floyd Brenneman, Alma Beachy, Allen Schrock, Ardith Miller, Irvin Beachy, Mary Beachy, John Yoder, Wilma Miller, Charlie Folk.
Fourth Row: Lois Lee, Ernest N. Beachy, Anna Thomas (teacher),
Simon G. Brenneman, Mary Ruth Compton.


More Salisbury school pages!