Salisbury Red Cross Workers During World War I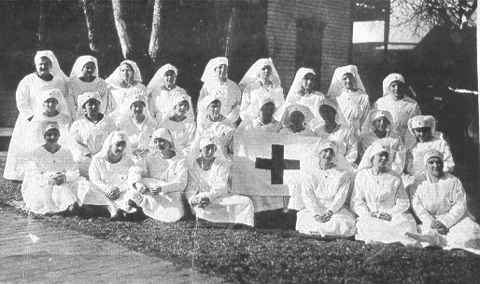 Front Row: Mima Harding Beal, Florence Newman Maust, Effie Lichliter Statler, Elizabeth Newman Folk, Florede Lichliter Riley, Marion Lichty Kline, Florence Raymond Reitz.
Second Row: Florence Newman, Sallie Lichty, Emma McClure, Harriet Hay Harding, Amanda Martin, Helen Rumgay Lichliter, Mrs. Fred Wagner, Mrs. Edgar Miller, Mrs. Louise Kerahan, Mae Dickey.
Back Row: Margaret Newman, Myrtle Dickey, Mrs. Mary Gartner, Mrs. J. L. Barchus, Ellen Rodamer, Della Brown, Mrs. L. P. Young, Mrs. Snyder, Annie Opel.

Red Cross Involvement in the First World War (1914-1919)
(Information from redcross.org)
The First World War helped transform the American Red Cross into a powerful social force. At the onset of the war, the American Red Cross had 562 chapters and about 500,000 members. Millions of volunteers joined the Red Cross, and by the end of the war, there were 3,724 chapters, 17,000 branches, and over 31 million members (including children and adults). Within weeks of the outbreak of the war in Europe in 1914, the Red Cross sent a mercy ship on a short mission to provide assistance to soldiers of all nationalities, marking the beginning of wartime service that continued until 1916. After the United States went to war in 1917, the American Red Cross focused its attention on American soldiers. Red Cross staff and volunteers tended to the needs of the wounded and sick, and the able-bodied and disabled veterans. Institutes for the blind and the crippled were opened, and valuable contributions were made in veterans hospitals. When the armistice was signed in France in 1918, Red Cross personnel were scattered from the British Isles to Siberia's far reaches.


---
SITE MAP