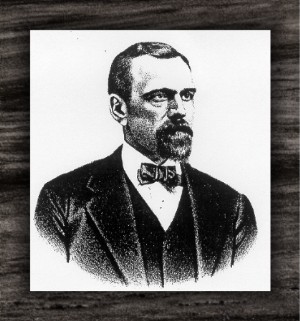 Peter S. Hay
THE HAY FAMILY

The Hay family are of German extraction. The family emigrated from Germany in 1763. We first learn of them in the eastern portion of the state, where Simon Hay resided, engaged in his trade of a weaver.
While temporarily engaged in the labor of threshing grain with a flail, he made the acquaintance of a man named Countryman, who assisted him in his labors. Countryman possessed a large tract of land in Brother's Valley township, and offered such inducements to Mr. Hay as to cause him to emigrate there and purchases a tract of three hundred acres. At this time the face of the country was almost in a state of nature, settlers being few and far between, and their clearings but "little holes in the wilderness," from which they harvested but meager crops for a subsistence. They then paced their grain to Wells Creek, Maryland, to have it ground, while salt, an indispensable necessity, was brought from Winchester, Virginia. Not discouraged by the outlook, Mr. Hay set manfully to work clearing his farm, performing the most arduous labors in so doing. At this time each new settler was heartily welcomed as a desirable accession to their numbers, and all would turn in and assisted him in erecting his log cabin. Being a man of great energy and enterprise, Mr. Hay erected a gristmill, so much needed, and afterward a fulling-mill, which he successfully conducted to both his own and his neighbors' advancement. Having well performed his mission, he departed this life at the ripe age of one hundred and three years, in 1842. He became the father of nine children, as follows: Mary, Elizabeth, Catharine, Susan, Valentine, Michael, Jacob, George and Peter S.

Peter S., who was born in 1789, succeeded his father in the possession of the farm, and after the death of his brother Valentine, who operated the gristmill, this also came into his possession by purchase. This mill is still doing duty in the township, although out of possession of the family. Mr. Hay personally engaged in agricultural pursuits until his death, which occurred in 1845, his life having been a quiet and most honorable one. He married Elizabeth Walker. She survived her husband many years, her death not occurring until 1880. Both Mr. and Mrs. Hay were members of the Reformed church. Of their twelve children, ten grew to manhood and womanhood's estate,: David, Michael, Phillip, Peter S. Valentine, Mary Susan, Elizabeth, Catharine and Caroline.

Peter S. Hay was born August 8, 1832, and, in common with other farmers' sons, attended the schools of their neighborhood. Owing to his father's death, the farm passed by purchase into his brother Phillip's possession, for whom he worked for a time, and then went to Jenner Township and taught school. Desiring to embark in the mercantile business, he laid the foundation for a successful career as a merchant by clerking for two years in a country store in Lavansville. In 1853 he came to Salisbury, and in connection with his brother Michael opened up a general store. They continued in business until 1863, when Michael retired, since which time the subject of this sketch has continued in business alone. His present business house was erected in 1854, and has been used as a store continuously ever since. One year during his business career he handled twenty-five thousand dollars' worth of butter and another year three hundred barrels of maple sugar, which conveys an idea of the large production of both these products. Prior to the building of the Connellsville railroad their supply of goods was conveyed by teams from Cumberland. Mr. Hay has been quite successful in business affairs, having accumulated a handsome competency, and is now one of the oldest merchants in the county, who has been continuously in business, which embraces a period of thirty years. Mr. Hay has always done his full share in contributing to the general weal, his influence always being given on the side of right. He is a man whose identification with any community is productive of good. Politically and religiously he is identified with the democratic party and the Reformed church. In 1854 he was united in marriage to Elizabeth, daughter of Michael Dively, who was born in 1834. They have four children: Harvey (a merchant at West Salisbury), Morris R., Jennie and George C.
Sketches of the Hay homes.
Information taken directly from: "History of Bedford, Somerset and Fulton Counties, Pennsylvania 1884 "Waterman, Watkins and Co."
Provided by Ardi Deal
Native Links

---
SITE MAP