Class of 1975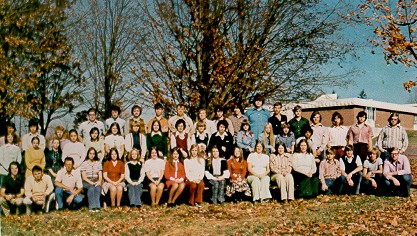 | | | | |
| --- | --- | --- | --- |
| Michael Albright | Anna Beachy | Judith Beachy | Rhoda Beachy |
| Marcia Beals | Mark Beals | Judy Beeman | Marla Beitzel |
| Don Bender | Greg Brown | Shelley Brown | Barron Deal |
| John Doyle | Doug Durst | Jill Durst | Lori Engle |
| Brenda Garlitz | Dave Gnagey | Amy Hare | Pam Keim |
| Janice Lapp | Barb Lowery | Duane Maust | Phil Maust |
| Chloe McKee | Connie Meese | Byron Miller | Cheryl Miller |
| Jan Miller | Kathy Miller | Rod Miller | Andy Mirkin |
| Sam Otto | Doty Powell | Deb Pritts | Don Pritts |
| Lois Puffinburg | Richard Rembold | Harry Ringler | Molly Rounsley |
| Lyndon Saylor | Jean Schrock | Clayton Spiker | Grant Spiker |
| Doug Steinrich | Greg Thomas | Stewart Thomas | Cindy Tissue |
| Dave Tressler | Beth Wengerd | Dale Yoder | Darrel Yoder |
| Marlene Yoder | | | |
Please contact the Salisbury Alumni Association to update your information!
Contact Lorito have your email address added to this page.
If you went to school with this class but did not graduate please contact me and I will
add your information to this page.
HISTORIC EVENTS FOR 1975
April 30, 1975 - At 8:35 a.m., the last Americans, ten Marines from the embassy, depart Saigon, concluding the United
States presence in Vietnam. North Vietnamese troops pour into Saigon and encounter little resistance. By 11 a.m., the
red and blue Viet Cong flag flies from the presidential palace. President Minh broadcasts a message of unconditional
surrender. The war is over.
The movie Jaws opens.
Microsoft is in business in Seattle, Washington.
Civil war erupts in Lebanon.
Class Motto: "The direction in which education starts a man will determine his future."
Class Colors: Royal Blue and Silver
Class Flower: White Carnation