Class of 1941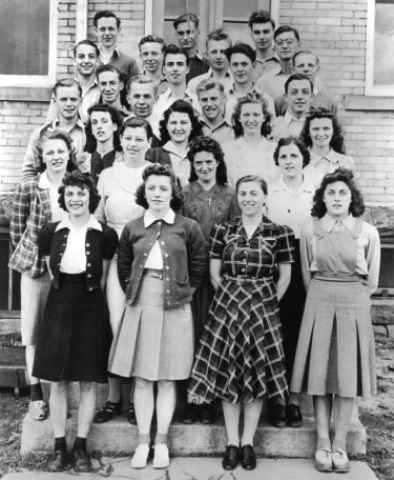 First row-Jane Walker, Emily Jane Lichliter, Mayo Maust, Sara Keim
Second row--Phyllis Newman, Helen Ash, Audrainne Brown, Mary Jane Maust
Third row--Almetia Brown, Ella Mae Hillegas, Esther Davis, Esther Winters
Fourth row--Tom James, Dan Miller, Bob Showalter, Clarence Herring
Fifth row--Elmer Gray, Austin Hoffman, Blaine Shunk, Gale Hillegas
Sixth row--Earl deal, Don durst, Dick Glotfelty, Paul Menhorn
Seventh row--Dick Hickson, Ward Holler, Blair Robertson



Helen Ash Yoder

Almetia Brown Bowman

Audrainne Brown Horning
Obituary

Esther Davis Heim

Earl Deal

Donald Durst

Dick Glotfelty

Elmer Gray

Clarence Herring

Dick Hickson

Ella Mae Hillegas Spence

Gale Hillegas

Austin Hoffman

Ward Holler

Thomas James

Sara Keim Smith

Emily Jane Lichliter Hickson

Mary Jane Maust Miller

Mayo Maust Shumaker

Paul Menhorn

Dan Miller

Phyllis Newman Haus

Blair Robertson

Bob Showalter

Blaine Shunk
Obituary

Jane Walker Barnhart

Esther Winters Fike

Richard Hickson
If you are a member of this class or a descendant:
Please contact the Salisbury Alumni Association to update your information!
Contact Lori to have your email address added to this page.
If you know a member of this class which is not listed please contact me and I will
add your information to this page.
ADDITIONAL CLASSMATES
Mary Donna Corbett Bowman
Historic Events For 1941
Early in the morning of December 7, 1941, Japanese submarines and
carrier-based planes attacked the U.S. Pacific fleet at Pearl Harbor.
1,177 crewmen and Marines of the U.S.S. Arizona who lost their
lives on December 7, 1941. They are still entombed within the Arizona herself.
There were 23 sets of brothers killed aboard the Arizona on that day.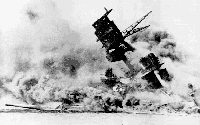 Arizona burning