Class of 1998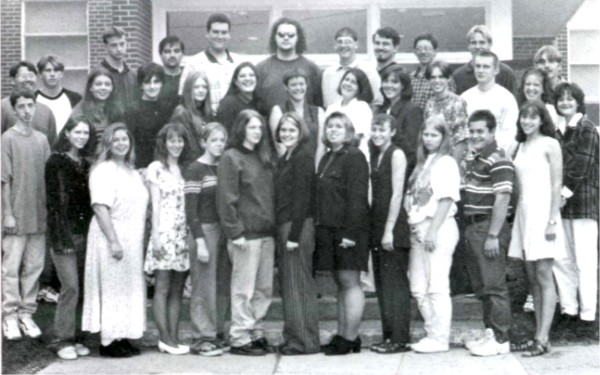 | | | | |
| --- | --- | --- | --- |
| Becky Artice | Tiffany Baer | Lynton Bender | Alyssa Brenneman |
| Ashley Brown | Inga Burchuladze | J ohn Byrd | Robert Caruthers |
| Matt Deal | Rachel Deer | Adam C. Durst | Beth Durst |
| Suealice Durst | Scott Elefante | Jennifer Hetrick | Herbie Hilliard |
| Kelli Hollada | Jesse Housel | Chunca Layton | David Lichty |
| Miranda Lishia | Jennifer Maust | Nick McKenzie | Erin Meese |
| Rachel Miller | Joshua Newman | Ron Oester | Erik Robertson |
| Geoffrey Robertson | Polly Schartiger | Missy Sipple | Artie Speicher |
| Jessica Spiker | Caleb Vought | Seth Wengerd | Barb Whisner |
| Justin Zimmerman | | | |
Please contact the Salisbury Alumni Association to update your information!
Contact Lori to have your email address added to this page.
If you went to school with this class but did not graduate please contact me and I will
add your information to this page.
CLASS MYSPACE
Historic Events For 1998
St. Louis Cardinal baseball player Mark McGwire breaks
Roger Maris' single season home-run world record and
finishes the season with 70 victorious homers. Chicago
Cub Sammy Sosa also breaks the record with 66 home runs.
Microsoft launches Windows98.
The Clinton sex scandal explodes.
Hurricane Mitch pounds the Caribbean and Central America