Class of 1995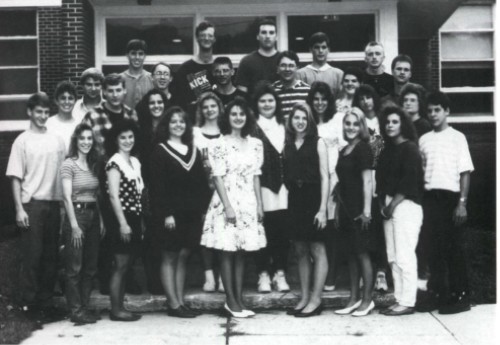 | | | | |
| --- | --- | --- | --- |
| Jeremy Baer | Terry Baker | Loren Bender | Bobby Jo Berkley |
| Amy Bittinger | Randy Bittinger | Sherri Bittinger | Anthony Butler |
| Derrick Caruthers | Bob Cummins | Brian Deal | Tony Ferraro |
| Richard Landis | Heather Livengood | Jessica Livengood | Darwin Maust |
| Susan Maust | Laura Miller | Geneva Putnam | Sherri Reiber |
| Marc Shunk | Jeremy Sines | Sherri Snyder | Joshua Vought |
| Erin Wengerd | Shawn Wilt | Marcy Younkin | |
Please contact the Salisbury Alumni Association to update your information!
Contact Lori to have your email address added to this page.
If you went to school with this class but did not graduate please contact me and I will
add your information to this page.
Historic Events For 1995
The Oklahoma City Bombing 9:02 am April 19th.
Lisa Clayton becomes the first woman to sail around the world.
Microsoft launches Windows95.
Class Motto: There's happiness in little things, there's joy in passing pleasures,
but friendships are, from year to year, the best of all life's treasure.
Class Colors: Black and Emeral Green
Class Flower: Red Rose