Class of 1976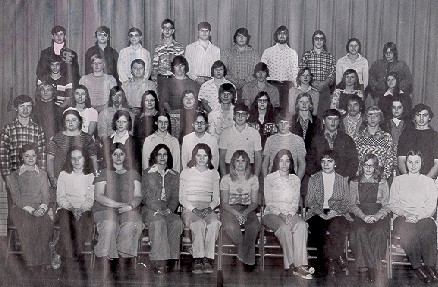 | | | | |
| --- | --- | --- | --- |
| Nancy Albright | Keena Anaya | Craig Baer | Willis Beitzel |
| Candy Bender | Michael Blake | Robert Broadwater | Hilda Brown |
| Edward Davis | Miriam Doyle | Martin Durst | Pamela Durst |
| Shirley Durst | Glen Farner | Richard Folk | Sam "Gus" Garlitz |
| Thomas Green | Karen Hochard | Gwendolyn Hollada | Stephen Hoover |
| Christa Housel | Elaine Keim | Doug King | Fred Kraybill |
| Rebecca Lindeman | Paula Locke | Brenda Lowery | Cynthia Bennett |
| Lavern Maust | Merlin Maust | Richard Maust | Ruth McKenzie |
| Timothy McKenzie | Kevin Miller | Mary Etta Miller | Mitchell Miller |
| William Mort | Debra Otto | Kathi Plummer | Randall Powell |
| Peggy Pritt | William Reckner | Tina Robinson | Theresa Seibert |
| Wade Shumaker | James Swindell | Melissa Tressler | Tammy West |
| Dane Whisner | Twila George | George Yoder | Karl Yoder |
| Norma Yoder | Tammy Yoder | Dale Zimmerman | |
Additional classmates:
James Adams
Please contact the Salisbury Alumni Association to update your information!
Contact Lori to have your email address added to this page.
If you went to school with this class but did not graduate please contact me and I will
add your information to this page.


HISTORIC EVENTS FOR 1976
The United States celebrated its 200th birthday
Viking I, the Mars probe, touched down.
Movies from 1976 include Rocky, Semi-Tough and The Deep.
Class Motto: "There is nothing permanent except change."
Class Colors: Red, White and Blue
Class Flower: Red Rose