Class of 1973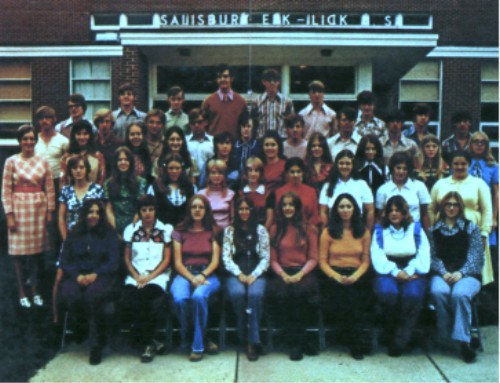 | | | | |
| --- | --- | --- | --- |
| Kathy Albright | Michael Anaya | Dorcas Beachy | Renate Beachy |
| Jack Beitzel | Elam Bender | Nancy Bender | Joseph Berkley |
| Lawrence Bittinger | Sue Bodes | Carl Deal | Denise Burkholder |
| Rebecca Doyle | Karen Durst | Connie Durst | Sue Fazenbaker |
| Rita Fisher | Donald Green | Debra Greer | Michelle Grimm |
| Kim Hardesty | Anita Hersh | Kathy Hochard | Kathy Ickes |
| Janet Jeffrey | Trudy Jones | Cynthia Kemp | Victoria Kerrigan |
| Debra Kolb | Deborah Lung | Daniel Maust | Mona Lee Maust |
| Veril Maust | Tom McCleary | Cheryl McKenzie | John McKenzie |
| Harvey Miller | William Pritt | Susan Reckner | Michael Rembold |
| Clifford Schrock | George David Short | Margaret Shultz | Deborah Sipple |
| Elsie Sommers | Beverly Tissue | Roger Wiltrout | Joy Yoder |
| Richard Yoder | | | |
Please contact the Salisbury Alumni Association to update your information!
Contact Lorito have your email address added to this page.
If you went to school with this class but did not graduate please contact me and I will
add your information to this page.
Historic Events For 1973
On the early morning of June 17, 1972, five men were arrested after breaking into the Democratic National Committee
Headquarters in the Washington, DC Watergate office complex. These burglars, who had been attempting to tap the
headquarters' phones, eventually were connected to President Richard Nixon's Committee to Re-elect the President
(CREEP). Over the next few months, this minor break-in snowballed as more facts eventually came to light. What
initially appeared to be a "third-rate burglary" quickly escalated into a full-blown political scandal, creating one of the
gravest constitutional crises this country has ever seen and climaxing with the downfall of a President.
Class Motto: There is only one good: that is knowledge; there is only one evil: that is ignorance.
Class Colors: Orchid and Deep Purple
Class Flower: Lilacs