Class of 1962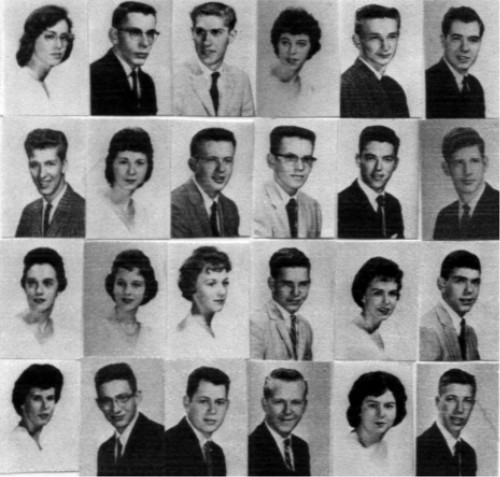 Barbara Bae

r

Gary Beachy

William Beachy

Martha Butler

Roger Chaney

Joseph Cochrane

Paul Critchfield

Connie Diehl

Virgil Engle

Homer Fike

Ronald Folk

Thomas McChesney

Wanda Miller

Clara Mimna

Carol Opel

Darwin Ringler

Sandra Robinson

William Shoemaker

Gretchen Shultz

Dale Shumaker

Robert Solosko

Robert Voytko

Beverly Walker

Robert Werner

Linda Hoke

Sidney R. Holler

Mildred Hershberger

Richard Hollada

Richard Knecht

Mary Ann Lindeman

Bonnie Maust

Fern Maust
Additional Classmates:
Joyce Brown
Carol Beachy
Naomi Maust

Please contact the Salisbury Alumni Association to update your information!

Contact Lori to have your email address added to this page.
If you went to school with this class but did not graduate please contact me and I will
add your information to this page.

Historic Events For 1962
The Beatles debut with "Love me do".
In "the Cuban crisis," Khrushchev removes Russian nuclear missiles
from Cuba, but only after Kennedy agrees to remove US missiles from Turkey.