Class of 1944



| | | | |
| --- | --- | --- | --- |
| Fern Ash | Norma Beal Ross | Margie Blocher Tressler | Wayne Blocher |
| Margaret Brown Schrock | James Diehl | Audrey Engle Tressler | Betty Engle Pletcher |
| Virginia Engle Anaya | Helen Fuller | Earl Glotfelty | Shirley Hanft Hetrick |
| Martha Harding Pritt | Dorthy Harris Miller | David Edward Harris | Lois Holler |
| Geraldine Kines Gatt | Millard Livengood | Doretha May Leslie | George Menhorn |
| Margaret Merrbach Knecht | Lois Newman | John O'Donnell | Anna Peck |
| Louise Ringler Tressler | Betty Robertson Walker | Elnora Schrock | Jim Shoemaker |
| Betty Jane Stark | Wilbur Swartzwelder | Jack Walker | Sam Walker |
| Mark James | John Fisher | | |
Additional Classmates:
Elwood Tressler
Please contact the Salisbury Alumni Association to update your information!!
Contact Lori to have your email address added to this page.
If you went to school with this class but did not graduate please contact me and I will
add your information to this page.
Historic Events for 1944
Allied D-Day landings at Normandy, France break German defences.
Elizabeth Taylor stars in "National Velvet", filmed in California where Taylor
was living as a war evacuee.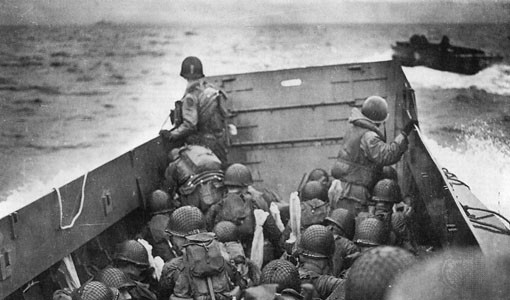 Their gun barrels covered against the spray, U.S. infantrymen gaze
from their landing craft toward Omaha Beach
National Archives, Washington, D.C.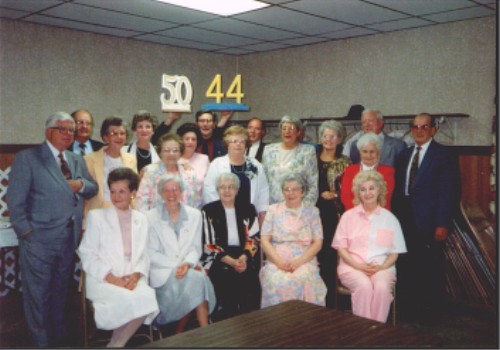 Row 1 (sitting) - Lois Holler, Shirley Hanft, Doretha May, Virginia Engle, Betty Jane Stark
Row 2 - Millard Livengood, Geraldine Kines, Betty Robertson (deceased), Audrey Engle, Margaret
Brown, Anna Peck, Lois Newman, Dorthy Harris, John O'Donnell
Row 3 - George Menhorn, Louise Ringler, Jack Walker, Sam Walker, Jim Shoemaker