Class of 1919
(photograph of class needed)



| | |
| --- | --- |
| McClure Barchus | Marie Cochrane Agee |
| Harriet Maust Maust | Hazel Meager Harris |
| Roland Swartzwelder | Albert Thomas |
If you are a member of this class or a descendant:
Please contact the Salisbury Alumni Association to update your information!
Contact Lori to have your email address added to this page.
If you know a member of this class which is not listed please contact me and I will
add your information to this page.
Historic Events for 1919
The Versailles Treaty is signed.
The Versailles Treaty of 1919 is the most famous
of the treaties because it was the chief one ending World War I.
Physicist Ernest Rutherford discovers a means of splitting the atom.
Wireless telephone is invented, allowing pilots to talk in-flight.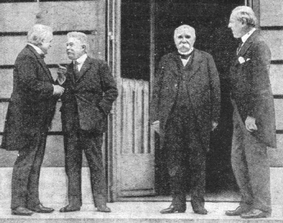 The Big 4 met in Paris to negotiate the
Treaty. Lloyd George of Britain,
Orlando of Italy, Clemeceau of France
Woodrow Wilson of United States