Class of 1900
Marion Buchanan Hagy
Della Brown Daily Caldwell
Grace Hay Southerland
Harriet Haselbarth Kretchmen
If you are a descendant of a class member please contact
Lori to have your email address added to this page.
If you know a member of this class which is not listed please contact me and I will
add the information to this page.
Historic Events for 1900
Baseball season gets under way as teams from the newly formed American League
take to the field. Chicago, Kansas City, Minneapolis, Milwaukee, Detroit,
Indianapolis, Cleveland, and Buffalo make up the charter cities with teams in the
upstart league.
The electric bus makes its debut along New York's Fifth Avenue. Bus fare was 5 cents.
Sioux Indian Chief Spotted Tail dies in Paris.
President William McKinley announces his intention to run for re-election.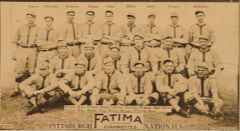 Pittsburgh