Class of 1890
This picture consists of several classes I have placed it with the class of 1893 because there contained at least
one class member in the photograph. The names on the back of the photograph were difficult to read - please allow
for some variations. Photograph donated by Jackie Brezney descendant of:
Christian Wagner of Silas, Baltzer and William and Bessie Beatrice Wahl of Perry, Casper and Christopher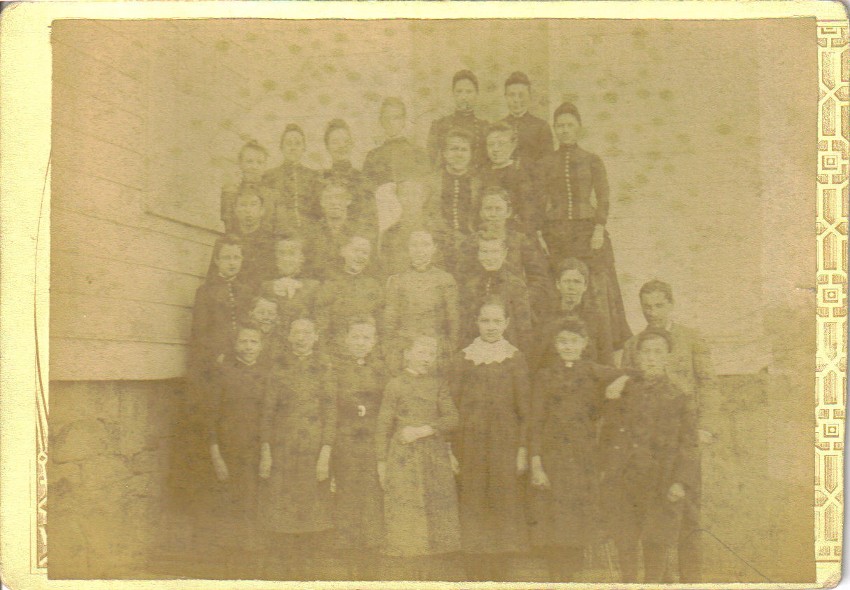 Top Row: Alice Hay, Annie Lichty, Allie Smith, Lidy Shaw, Laura Smith, Mary Lichty
Second Row: ? Meyers, Ed Livengood, Clew or Clem Stotlen, Zude Lichty, Harve Lichty, Jenny Haselbarth, Anna Mckenley
Third Row: Nina Breig, Edith Lichliter, Della Boyer, Eva Reese, Olly Livengood, Benny Wagner
Forth Row: Clara Wagner, John Lichliter, Laura Johns, Cora Livengood, Ora Hay, Janet McKinley, Icy Smith, George Hay A. Oberlin - Teacher

| | |
| --- | --- |
| Edith Lichliter | Lydia Meager Martin |
| Anna McKinley | Clewell E. Statler |
If you are a descendant of a class member please contact
lori@salisburypa.com to have your email address added to this page.
If you know a member of this class which is not listed please contact me and I will
add the information to this page.
Historic events for 1890
Massacre At Wounded Knee.
The United States Census declares the frontier "closed".
"The Picture of Dorian Gray" by Oscar Wilde published.