St. John's Union Church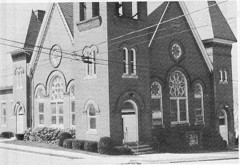 Built as a joint church by the Lutheran and Reformed congregation the cornerstone of this church was laid on July 7, 1853. The laying of the cornerstone and the building of this church in 1853 continued a legacy of cooperation between the Lutheran and Reformed congregation in Salisbury. The brick church replaced a log church which had been jointly built in 1809 east of the town square, on the hill near the old Salisbury cemetery. When the decision to build a new church was made, a lot was purchased from Henry Brewer and the new brick church was built for $3000.
In 1876 the Lutherans proposed that the congregations of St. John's separate. After years of negotiations, the building was sold to the Reformed Church in the spring of 1888 for $546. They continued to worship there until 1895 when they moved to their present building at the corner of Gay and Ord Streets. The Lutherans built a new church on Union Street.
St. John's United Church of Christ
Built in 1895 on the corner of Ord Street and Gay Street
Since the beginning of St. John's Church, the congregation has belonged to three different denominations. It was first a member of the Reformed Church in the United States. In 1934, the Reformed Church merged with the Evangelical Synod of North America to form the Evangelical and Reformed Church. This denomination gave way in 1957 to the United Church of Christ which fully came into being in July 1961 with the constituting synod. The United Church of Christ is a merger between the Evangelical and Reformed Church and the Congregational Church.
Rev. D. H. Leader -- Pastor when the church was built in 1895
Information obtained from "The Casselman Chronicle" Volume XXXII




Click here for St. John's Reformed Church Parish Register
Elk Lick Township May 13, 1789 to Nov. 4, 1801
CHURCHES OF SALISBURY AND SURROUNDING AREA

---
SITE MAP