Samuel Junior Showalter
September 17, 1926 - November 18, 2004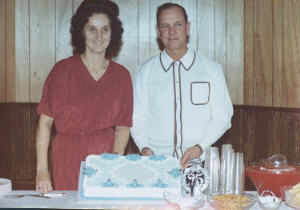 Lola Jean (Hollada) Showalter
Aug. 19, 1997
Lola, Sam, Jean, Bette, Fred, Hazel, Susie
(Photograph taken at Sam and Lola's)
Children of Sam and Lola: David "Bo"
Sam Showalter was a Courier for National Bank of Western Pennsylvania. He was a U.S. Navy veteran of WWII and was the recipient of the Pacific and American Theatre Ribbons, Victory Medal and Philippine Liberation Ribbon. He was a charter member of Salisbury VFW and member of the DAV. Sam was a former bus driver, auctioneer, and figure caller for the Maple Swingers Square Dance Club. He was a member of the Main Street Brethren Church, Meyersdale.

A special thank you to Uncle Sam for all the help
he gave me with the Showalter genealogy.
Remembering you fondly and always........