Mountain View Church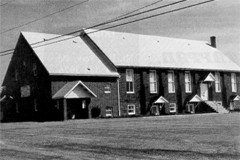 The MountainView Church, two and one-half miles northwest of Salisbury, was built in1953. It is a tile structure, 40'x72', with overhead balconies at each end, and basement under the entire building. Dedicated services were held on Friday evening October 9, 1953. Since then the Beachy congregation of the area has held all her regular services at this church.
(Additional information needed)
Information taken directly from the Salisbury Centennialbook.




CHURCHES OF SALISBURY AND SURROUNDING AREA


---
SITEMAP