Boynton Church of God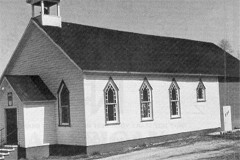 In the year 1925 on the 14th day of March in the community of Boynton, a church was set in order by Reverend H. W. Poteat. Reverend J. W. Tanner was appointed as its first pastor. The name of this church was Church of God which is a local assembly of a pentecostal denominated with international headquarters at Cleveland,Tenn. The denomination now numbers in membership over 350,000. The Church of God movement dates back to the year 1886 when the first church was organized with nine members in the southeastern part of the United States.
The organization of the church at Boynton marked not only the beginning of its own existence, but also thebeginning of the denomination in the state of Pennsylvania. Boynton was the first Church of God to be established in Pennsylvania and thus in many respects is the mother of some fifty churches now in the state. The formation of the Boynton church grew out of an unorganized work started by a Reverend Tedro and a Reverend Gray who were the first to come to Boynton preaching the Pentecostal message.
The place of organization and early worship was the store building located next to the building once used as the post office. This is known by many as the Hinebaugh building. Sometime later the church moved to a large room above what was then known as Hook's store. The church was later moved again to a small building on the other side of the Casselman River in what was called Doneytown. This building was destroyed one night by a train leaving the tracks and running through it.
At one time in the early thirties the church at Meyersdale and the congregation at Boynton were combined and worshipped at Meyersdale. However, this was not very satisfactory and after a year or two the Boynton congregation was again located at Boynton.
In the year 1938 the old Boynton schoolhouse was purchased by the church
and was used as the house of worship by the church. In 1956 an extensive remodeling program was begun by Rev. C. D. Coley and the congregation, which resulted in the transforming of the old two story school building into an attractive church buildingwith adjoining five room parsonage. Again in the year 1959 an addition was added to the rear of the building of tile block construction housing Sunday school room, rest rooms, and kitchen. This was undertaken by the congregation and Rev. Paul M. Alumbaugh.
Information taken directly from the Salisbury Centennial book.
CHURCHES OF SALISBURY AND SURROUNDING AREA

---
SITEMAP